It seems like just yesterday it was Valentine's Day, and Dad and Stephen were coming home with flowers for Mom and I, and candy for Therese. This year my brother won't be here to bring flowers, but I'm sure he'll make it up when he comes home for Easter break. And in case you were wondering, no, I don't have a date for tonight. But that's okay. I'm only seventeen and have plenty of years ahead of me for that. Mom told me I should treasure these last few Valentine's Days when I can spend them at home with my family. Never know how many more years it will be until I will be quite distracted with someone else. *wink*
We don't really have many Valentine's Day traditions around here, except the usual flowers and such. Mom likes to read the story of St. Valentine to all of us, because after all, it is the feast day of St. Valentine, and it was that long before it was turned into what we know today as "Valentine's Day".
I usually bake something sweet and chocolatey for after dinner. Maybe this year I can come up with something that is sugar and gluten free, but tastes so good the rest of the family doesn't notice! :)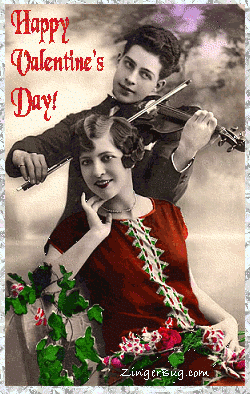 On a random note, I just love vintage valentines! I have found quite a few online which I have posted here. I think this one above is one of my favorites. :)
I like this one too. So cute and so author-ish :)

Have a lovely day!